The Soloc belts have been designed for those with the use of one hand. The design allows the belt to be connected and released without assistance.
An effective buckle is paramount to wheelchair safety, but many users find they cannot use a belt and buckle without requiring assistance.
Features:
75,000 people in the UK only have the use of one arm.
People with both hands but lack coordination with fine tasks also struggle with belts.
People who cannot use a conventional buckle often rely on others for support.
In trials Soloc improved the user's confidence, mobility and feelings of independence.
Customer Questions
What are your delivery lead times?
It depends on the product you order. A simple order such as RMS accessories are held in stock and can be dispatched quite quickly, usually within 5 working days - if it is a bespoke item such as a seating system, or items ordered from external suppliers, this may take between 2 and 12 weeks. We will contact you once your order is placed to give you a more accurate lead time.
How do I make sure I order the right size?
We try to provide you with as many sizing details on our products as we can, but staring at all those charts isn't easy! If you are ever worried about the size you are ordering please contact our customer service team on 01795 477280 or email sales@rms-rehab.co.uk.
Can I return an item?
Unfortunately not. A lot of our products are made to measure meaning they are unique to each person and therefore can't be returned. If you have a product you believe can be returned we may accept it if it is unopened and unused - call 01795 477280 to talk to us.
Can I change an order I've already placed?
You can, but it may result in extra charges and delays. Once we have started manufacturing a product it becomes hard to change that process, especially if some components need to be replaced. We ask that everyone checks their order thoroughly before purchase.
Am I VAT Exempt?
If you are registered disabled - or are the carer, parent or guardian of someone who is registered disabled you will be exempt from paying VAT. If you are a registered charity with a UK charity registration number you will also not have to pay VAT. There is a simple form to fill out at checkout to apply this discount.
How do I apply for a trade account?
You can apply for a trade account by filling out this form on the website. You can also look at our interactive map on our contact us page and get in contact with your local Product Specialist to see if you would be eligible for a trade account.
Magnetic Attraction
User Independence
Confidence and Safety
Part Numbers:
Soloc Uno:
Soloc Uno - Padded Magnetic Buckle Belt - Medium - SOLOC-UNO-NT-M
Soloc Uno - Padded Magnetic Buckle Belt - Large - SOLOC-UNO-NT-L
Soloc Uno - Padded Magnetic Buckle Belt with Pull Tab - Medium - SOLOC-UNO-PT-M
Soloc Uno - Padded Magnetic Buckle Belt with Pull Tab - Large - SOLOC-UNO-PT-L
Soloc Solo:
Soloc Solo - Padded Magnetic Buckle Belt with Pull Tab and Presenter Arm - Medium - SOLOC-SOLO-PT-M
Soloc Solo - Padded Magnetic Buckle Belt with Pull Tab and Presenter Arm - Large - SOLOC-SOLO-PT-L
Soloc Freedom:
Soloc Freedom - Magnetic Buckle Belt with Sprung Arms and Neoprene Cover - One Size - SOLOC-FREEDOM-PT
Soloc Uno:
Designed for people that find it difficult to connect a standard buckle through limited mobility and dexterity, such as those suffering from Arthritis or hand tremors, also those who are partially sighted. The magnetics in each part of the buckle help the Soloc buckle to align and connect on its own automatically.
Soloc Solo:
The Soloc Solo belt has been creatively designed for people who have only the use of one hand. The unique design allows the belt to be connected and released using only one hand creating greater autonomy and a degree of dexterity.
Soloc Freedom:
The Soloc Freedom is imaginatively designed for people with extremely limited functional hand or arm control to be able to independently use a lap belt without needing to use hands. Easy to connect, easy to detach, safe and secure!
An additional benefit of the recoil arms is you can enter the chair without sitting on the belt.

What is the Soloc buckle?
National Star Collage approached Magloc to develop a new buckle for students that were unable to use their existing buckles due to their disabilities.
Over the past three years Magloc developed a new single handed buckle based on our patented connection process, together with a static presenter arm it allows students to connect and release the buckle without assistance, thus the Soloc single handed buckle was born the first buckle of its kind in the world designed and developed for the disabled.
The Soloc buckle features:
Single hand connection and release .
Presenter arm has a flexible section to allow it to bend around the body.
Presenter arm retracts to the side of the chair on release to allow entry and exist.
An additional Pull Tab release is optional for people with very limited dexterity.
There is also a unique Houdini locking feature developed for safety critical application.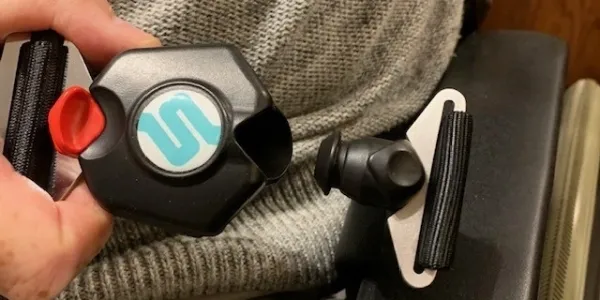 The benefits are easy to see:
Simply put by one student "its just Freedom! not having to ask people for assistance anymore"
Not only will Soloc improve the lives of so many people but it will reduce the need for care assistance too, it's estimated that people need to transfer on average around 16 times a day so the use of the new buckle will reduce the need for assistance and promote savings in resources for the NHS, collages and local community carers as well as family and friends.
In the UK alone its estimated around 75,000 people could benefit directly for the use of the Soloc buckle.
For more information on SOLOC visit their website here - SOLOC WEBSITE
Contact us to learn more about Soloc Belts