Multisensorial Standing, through the patented electronic panel attached under the platform, the vibration spread through the entire structure.
With music, rhythm and vibration APP Multisensorial standing revolutionises static times. The restraining elements become vehicles of new stimuli and enjoyment for the child.
Features:
Numbered bars to find the right setting determined by the therapist.
Tool free adjustments.
Electronic control panel with adjustments for volume and vibration intensity.
Circumference reducer making it possible to reduce the circumference of the supports for smaller users by inserting the reducers.
Multi-adjustable headrest is adjustable in height, tilt and anterior and posterior.
Independently adjustable pelvic and thoracic support.
Adjustable frame with "Safe Lock" system.
Patented electronic system.
Platform with control panel.
We offer FREE assessments for this product, which we recommend so you get exactly what you need. Fill out the contact form below to find out more!
Customer Questions
What are your delivery lead times?
It depends on the product you order. A simple order such as RMS accessories are held in stock and can be dispatched quite quickly, usually within 5 working days - if it is a bespoke item such as a seating system, or items ordered from external suppliers, this may take between 2 and 12 weeks. We will contact you once your order is placed to give you a more accurate lead time.
What is a prescriptive item?
This is an item that is made unique to each users needs. Although all our products - including prescriptive ones - can be purchased on the website, we highly recommend that those marked as prescriptive items (in our Product Builder) have an assessment carried out by one of our product specialists. We cannot accept any returns for items ordered in the wrong size or that are incompatible with the end user.
Can I return an item?
Unfortunately not. A lot of our products are made to measure meaning they are unique to each person and therefore can't be returned. If you have a product you believe can be returned we may accept it if it is unopened and unused - call 01795 477280 to talk to us.
Can I change an order I've already placed?
You can, but it may result in extra charges and delays. Once we have started manufacturing a product it becomes hard to change that process, especially if some components need to be replaced. We ask that everyone checks their order thoroughly before purchase.
Am I VAT Exempt?
If you are registered disabled - or are the carer, parent or guardian of someone who is registered disabled you will be exempt from paying VAT. If you are a registered charity with a UK charity registration number you will also not have to pay VAT. There is a simple form to fill out at checkout to apply this discount.
How do I apply for a trade account?
You can apply for a trade account by filling out this form on the website. You can also look at our interactive map on our contact us page and get in contact with your local Product Specialist to see if you would be eligible for a trade account.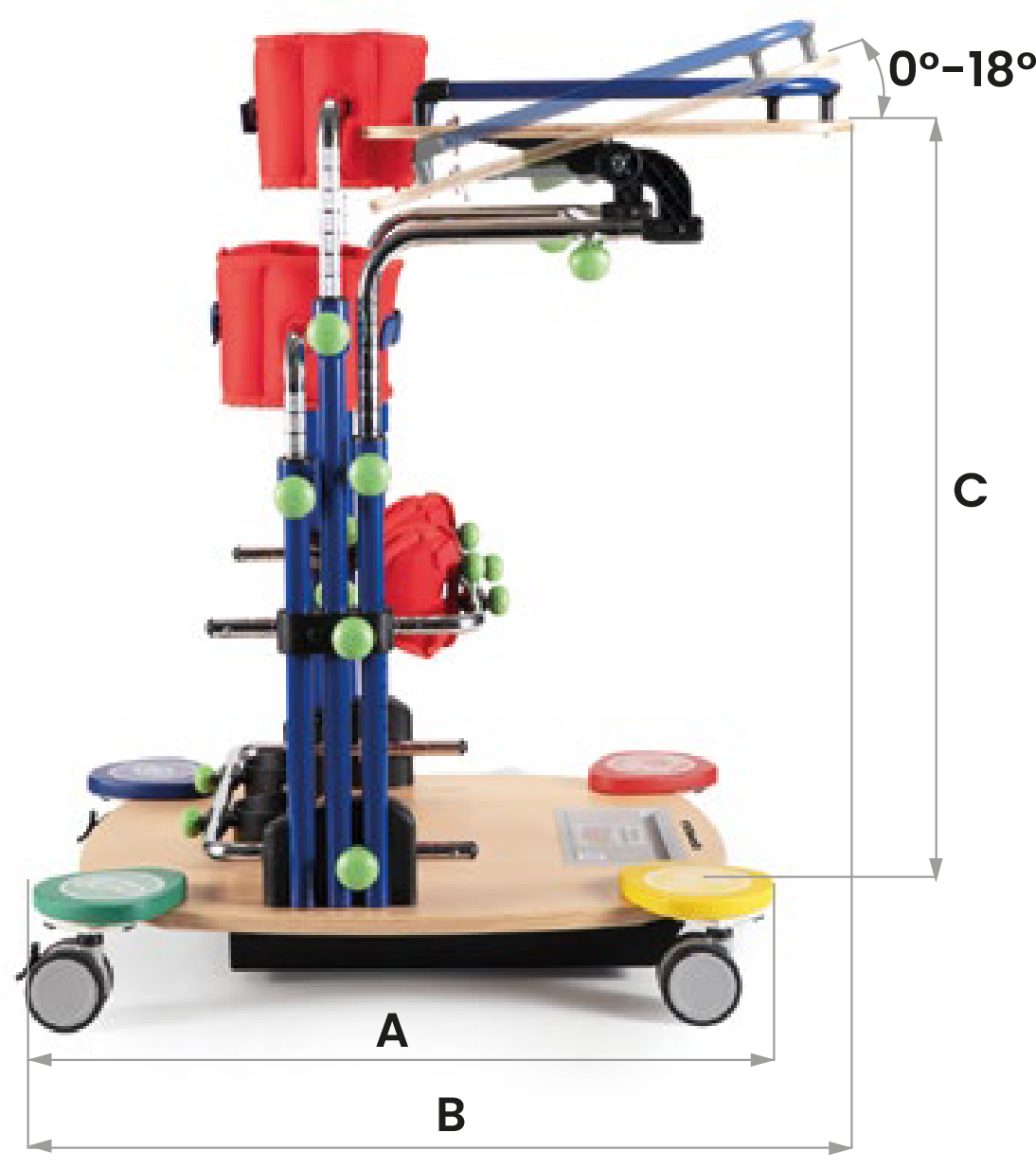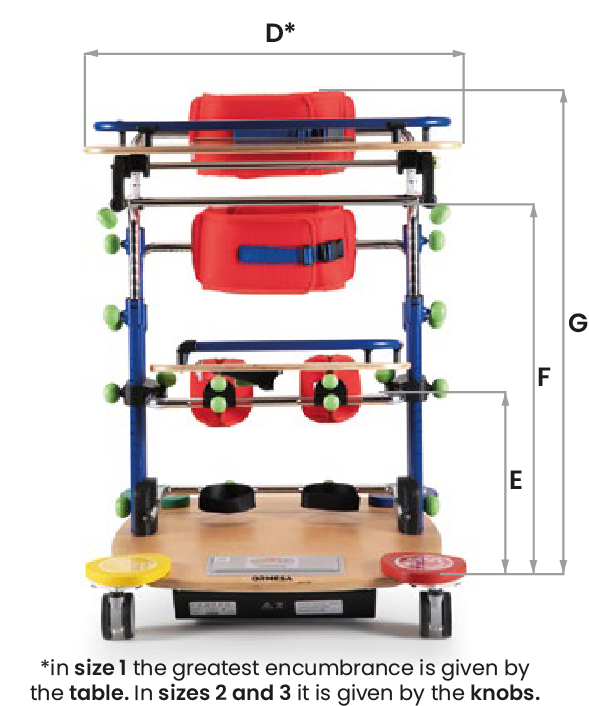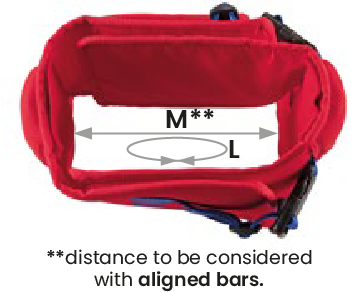 | | | | | | | | | | |
| --- | --- | --- | --- | --- | --- | --- | --- | --- | --- |
| Size | Max Load | Total Weight | A | B | C | D* | E | L | M** |
| Mini | 35 kg | 24.6 kg | 66 cm | 76 - 78 cm | 49 - 77 cm | 64 cm | 14 - 24 cm | 60 cm | 18 cm |
| Small | 45 kg | 26 kg | 70 cm | 78 - 90 cm | 59 - 87 cm | 65 cm | 14 - 36 cm | 65 cm | 22 cm |
| Medium | 55 kg | 28.5 kg | 73 cm | 80 - 92 cm | 69 - 100 cm | 70 cm | 14 - 42 cm | 70 cm | 29 cm |
A New Concept In Standing:
The APP Multisensorial Stander is a vertical stander for children designed to make therapy more enjoyable and engaging, thanks to an extraordinary multi-sensory experience. Through the propagation of vibrations, induced by an audio source via the frame and the restraint components.
The use of this aid facilitates the dynamic and interactive participation of the child during the rehabilitation aimed at:
Reinforcing the standing position.
Improving interaction with the environment.
Stimulating cognitive ocular-manual abilities.
Multi-Sensory:
The APP transforms any audio signal into a vibration, thanks to a patented electronic kit positioned under the footboard, to which any type of interactive learning device with analogue audio output can be connected.
Multiple Adjustments:
The structure of the APP can be adapted to various postural needs. Both the chest and pelvic supports are independently adjustable, same for the knee supports and heel stops. The birch wood tray, ideal for educational activities and upper limbs support, can be easily removed to facilitate rehabilitation activities.
Contact us to learn more about APP