A corner seat with adjustable abductor to promote upright sitting and properly align the spine and pelvis for optimal lower leg mobility.
The Birillo is the perfect aid in improving a child's overall strength, endurance, and mobility.
Feature:
Height adjustable.
Plastic wall protectors.
Solid castor wheels.
Height and depth adjustable handlebar.
Adjustable abductor.
Customer Questions
What are your delivery lead times?
It depends on the product you order. A simple order such as RMS accessories are held in stock and can be dispatched quite quickly, usually within 5 working days - if it is a bespoke item such as a seating system, or items ordered from external suppliers, this may take between 2 and 12 weeks. We will contact you once your order is placed to give you a more accurate lead time.
What is a prescriptive item?
This is an item that is made unique to each users needs. Although all our products - including prescriptive ones - can be purchased on the website, we highly recommend that those marked as prescriptive items (in our Product Builder) have an assessment carried out by one of our product specialists. We cannot accept any returns for items ordered in the wrong size or that are incompatible with the end user.
Can I return an item?
Unfortunately not. A lot of our products are made to measure meaning they are unique to each person and therefore can't be returned. If you have a product you believe can be returned we may accept it if it is unopened and unused - call 01795 477280 to talk to us.
Can I change an order I've already placed?
You can, but it may result in extra charges and delays. Once we have started manufacturing a product it becomes hard to change that process, especially if some components need to be replaced. We ask that everyone checks their order thoroughly before purchase.
Am I VAT Exempt?
If you are registered disabled - or are the carer, parent or guardian of someone who is registered disabled you will be exempt from paying VAT. If you are a registered charity with a UK charity registration number you will also not have to pay VAT. There is a simple form to fill out at checkout to apply this discount.
How do I apply for a trade account?
You can apply for a trade account by filling out this form on the website. You can also look at our interactive map on our contact us page and get in contact with your local Product Specialist to see if you would be eligible for a trade account.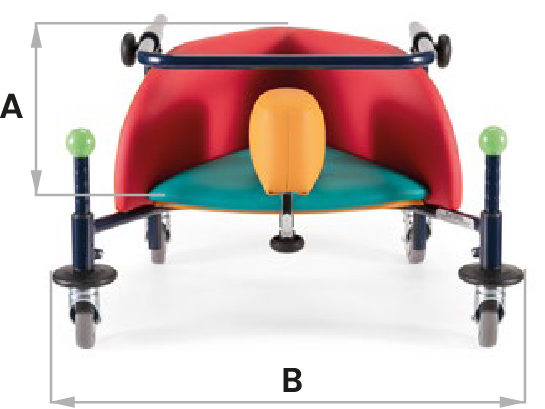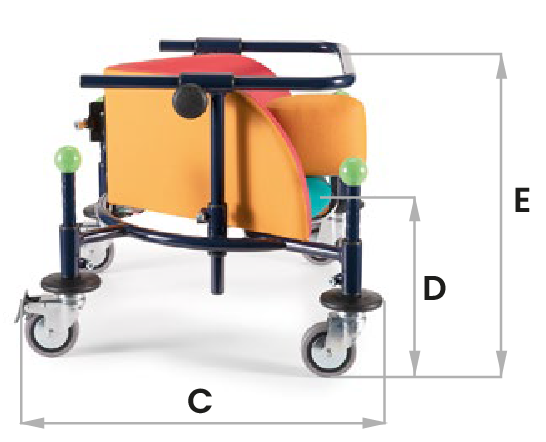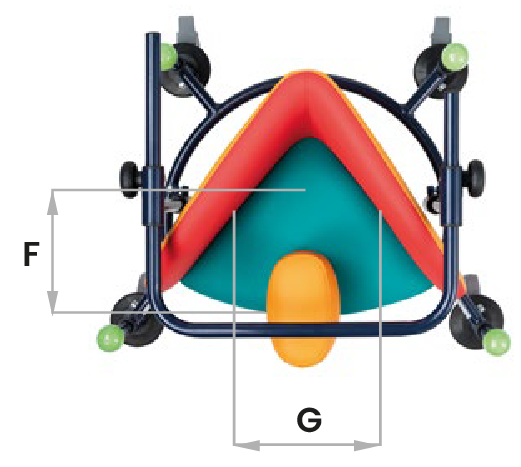 | | | | | | | | | | |
| --- | --- | --- | --- | --- | --- | --- | --- | --- | --- |
| SIZE | AID WEIGHT | MAX LOAD | A | B | C | D | E | F | G |
| 1 | 8.5 kg | 30 kg | 18 cm | 59 cm | 50 cm | 20 - 28 cm | 34 - 48 cm | 18 cm | 22 cm |
| 2 | 10 kg | 40 kg | 19 cm | 65 cm | 51 cm | 23 - 31 cm | 40 - 56 cm | 20 cm | 26 cm |
| 3 | 11 kg | 50 kg | 21 cm | 73 cm | 59 cm | 23 - 35 cm | 40 - 65 cm | 23 cm | 30 cm |
| 4 | 12.8 kg | 60 kg | 26 cm | 78 cm | 60 cm | 22 - 40 cm | 43 - 74 cm | 30 cm | 38 cm |
Emotions in Motion:
The Birillo is a support walker for children designed to allow autonomous movement in a sitting position. Its peculiar shape and bright colours make it a fun and stimulating aid and a valuable tool for rehabilitation activities.
It offers effective support in the development of:
Perceptive and visual-motor functions.
Exploratory curiosity.
Capacity to represent space.
The Pleasure of Discovery:
The Birillo is an extremely helpful aid for the exploration of the surrounding environment, which instantly shifts from being a visual and static space to a territory of discovery. Through the use of the Birillo, the child can enrich their wealth of experiences and increase their cognitive and relational repertoire, increasing body and space awareness.
Ergonomics and Safety:
With this special gait trainer, safety and fun go hand in hand. The shape of the seat is triangular to prevent excessive hips and trunk extension, while the wedge retractor holds the pelvis. Thanks to these features, it stimulates the correct posture of the child without inhibiting the rotation of the trunk, favouring the management through the arms. To further guarantee safety, Ormesa added self-extinguishing upholstery and a steel frame painted with non-toxic powders.
Contact us to learn more about Birillo