The Dynamico is available in both indoor and outdoor models, it is available in five different sizes and has lots of different features.
The Dynamico is a postural positioning stander which assures the body is in a safe and well supported position at all times.
Features:
Chest support with adjustable height.
Safety lock to close backrest.
Anatomical worktable with raised edge, adjustable height and completely removable.
Height adjustable frame.
Knee pads with adjustable width, depth, and height.
Transport wheels.
Non-slip aluminium foot board.
Heel rests with adjustable width and depth.
Customer Questions
What are your delivery lead times?
It depends on the product you order. A simple order such as RMS accessories are held in stock and can be dispatched quite quickly, usually within 5 working days - if it is a bespoke item such as a seating system, or items ordered from external suppliers, this may take between 2 and 12 weeks. We will contact you once your order is placed to give you a more accurate lead time.
What is a prescriptive item?
This is an item that is made unique to each users needs. Although all our products - including prescriptive ones - can be purchased on the website, we highly recommend that those marked as prescriptive items (in our Product Builder) have an assessment carried out by one of our product specialists. We cannot accept any returns for items ordered in the wrong size or that are incompatible with the end user.
Can I return an item?
Unfortunately not. A lot of our products are made to measure meaning they are unique to each person and therefore can't be returned. If you have a product you believe can be returned we may accept it if it is unopened and unused - call 01795 477280 to talk to us.
Can I change an order I've already placed?
You can, but it may result in extra charges and delays. Once we have started manufacturing a product it becomes hard to change that process, especially if some components need to be replaced. We ask that everyone checks their order thoroughly before purchase.
Am I VAT Exempt?
If you are registered disabled - or are the carer, parent or guardian of someone who is registered disabled you will be exempt from paying VAT. If you are a registered charity with a UK charity registration number you will also not have to pay VAT. There is a simple form to fill out at checkout to apply this discount.
How do I apply for a trade account?
You can apply for a trade account by filling out this form on the website. You can also look at our interactive map on our contact us page and get in contact with your local Product Specialist to see if you would be eligible for a trade account.
Designed for Your Comfort:
The Dynamico is a gait trainer for adults and children, ideal for both indoor and outdoor use.
Indoor Version - Equipped with four pivoting wheels with independent brakes, which make the aid easy to manage inside the home, school or therapy spaces.
Outdoor Version - Can be used on roads and terrain without steep slopes in complete safety, thanks to its handy manual brakes.
Thanks to the Dynamico, the user will:
Avoid the risk of falls.
Develop greater autonomy.
Stabilize orientation in near space.
A Versatile Aid with Proven Technology:
The Dynamico features a solid steel frame adjustable in height, designed to withstand years worth of use and follow the user in all stages of the rehabilitation process. The same goes for pelvic and thoracic supports; adjustable in height, they help to make the Dynamico a valuable aid in multi-user environments such as schools, clinics and nursing facilities.
Adaptability at Your Service:
In its standard version, Dynamico can comfortably accommodate people with mild or moderate physical disability. The chest and pelvic supports are independently adjustable in height and, as far as the pelvic support is concerned, in depth too. In the case of users with sufficient torso control, the chest support can be easily removed; for users with hight support needs. Ormesa has designed a wide range of components that make the Dynamico highly adaptable.
INDOOR VERSION: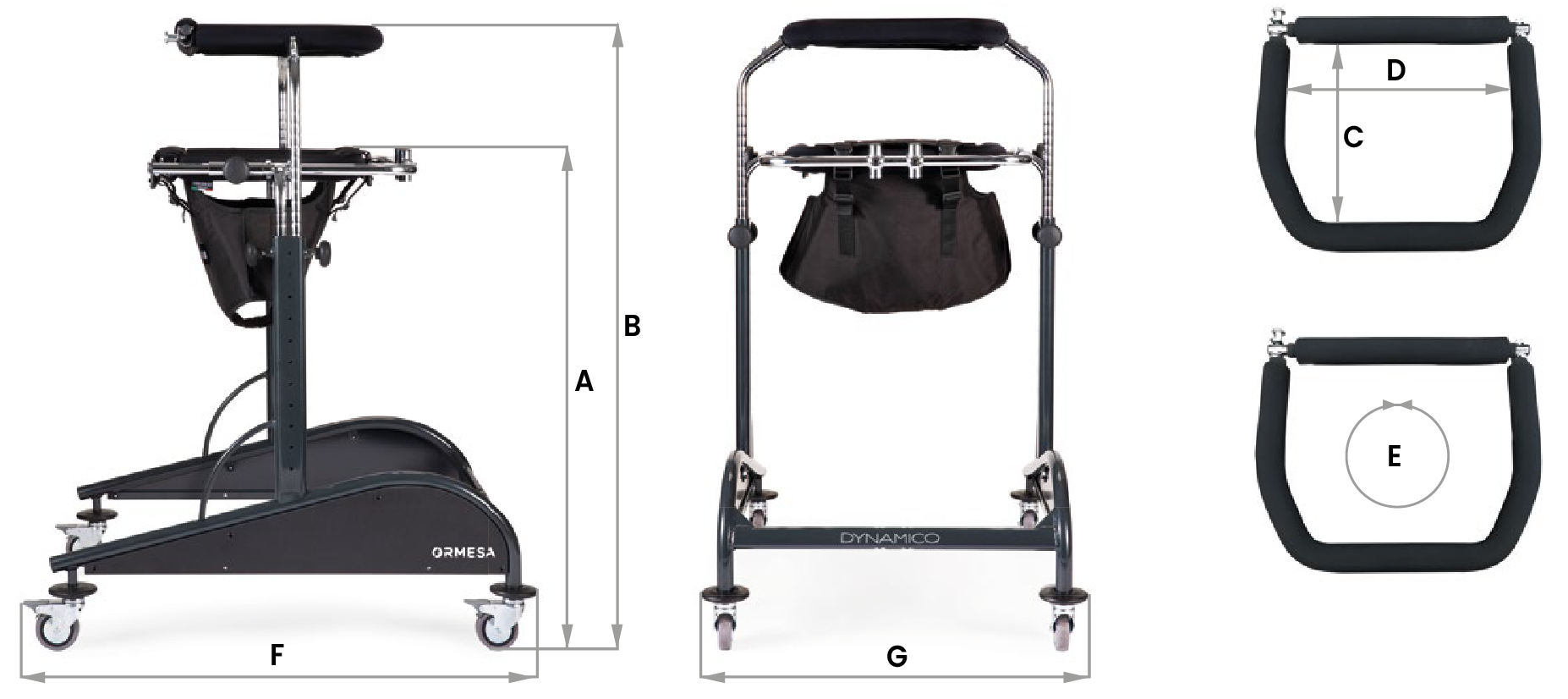 | | | | | | | | | | |
| --- | --- | --- | --- | --- | --- | --- | --- | --- | --- |
| SIZE | A | B | C | D | E | F | G | MAX LOAD | USER HEIGHT |
| 1 | 44 - 60 cm | 52 - 70 cm | 18 cm | 25 cm | 65 cm | 79 cm | 66 cm | 55 kg | 75 - 100 cm |
| 2 | 66 - 82 cm | 77 - 95 cm | 21 cm | 28 cm | 75 cm | 84 cm | 66 cm | 70 kg | 95 - 130 cm |
| 3 | 77 - 102 cm | 89 - 116 cm | 25 cm | 30 cm | 85 cm | 88 cm | 66 cm | 85 kg | 120 - 155 cm |
| 4 | 85 - 112 cm | 92 - 126 cm | 30 cm | 35 cm | 110 cm | 95 cm | 71 cm | 100 kg | 140 - 175 cm |
| 5 | 97 - 125 cm | 105 - 138 cm | 32 cm (TS*) 41 cm (PS**) | 41 cm | 120 cm | 106 cm | 77 cm | 115 kg | 160 - 195 cm |
TS* - Thoracic Support
PS** - Pelvic Support
OUTDOOR VERSION: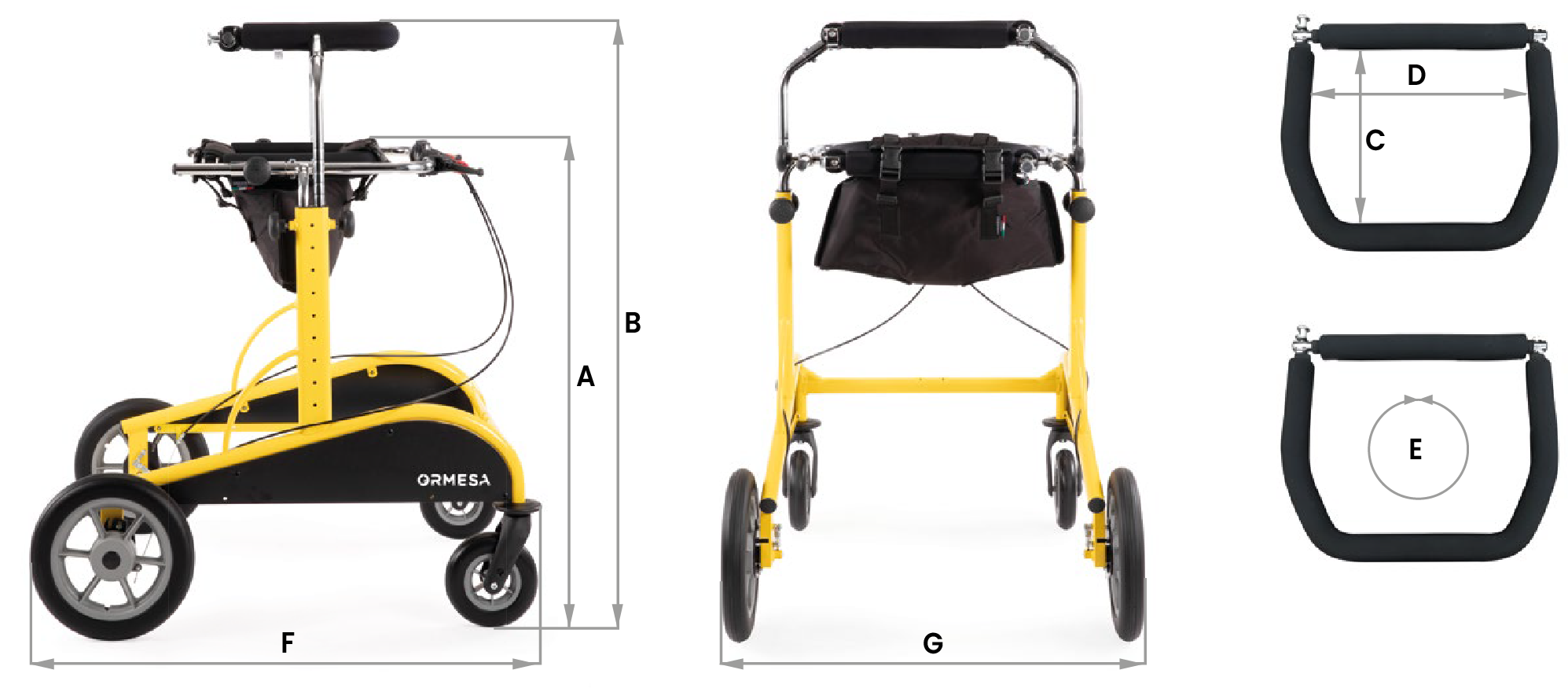 | | | | | | | | | |
| --- | --- | --- | --- | --- | --- | --- | --- | --- |
| SIZE | A | B | C | D | E | F | G | MAX LOAD |
| 3 | 85 - 110 cm | 97 - 124 cm | 25 cm | 30 cm | 85 cm | 94 cm | 74 cm | 85 kg |
| 4 | 93 - 120 cm | 100 - 134 cm | 30 cm | 35 cm | 110 cm | 101 cm | 78 cm | 100 kg |
| 5 | 106 - 133 cm | 116 - 146 cm | 32 cm (TS*) 41 cm (PS**) | 41 cm | 120 cm | 111 cm | 82 cm | 115 kg |
TS* - Thoracic Support
PS** - Pelvic Support
Contact us to learn more about Dynamico