The EasyStand Evolv offers full sit to stand capability with the most versatile standing frame available - with multiple different features.
The Evolv enables full extension at the hips and knees for those with sufficient range of motion and full sit to stand provides an opportunity to stand in a partial weight-bearing position and potentially progress to full extension over time.
Features:
Sit to stand with the ability to stop anywhere between sitting and standing.
Shadow tray - provides constant anterior support between sitting and standing.
Quick lateral transfer for those that self-transfer.
Several features to enable easier assisted transfers.
Pressure management with padding on critical areas.
Full hip and knee extension.
Modular design.
Preparation for Exoskeleton walking.
We offer FREE assessments for this product, which we recommend so you get exactly what you need. Fill out the contact form below to find out more!
Customer Questions
What are your delivery lead times?
It depends on the product you order. A simple order such as RMS accessories are held in stock and can be dispatched quite quickly, usually within 5 working days - if it is a bespoke item such as a seating system, or items ordered from external suppliers, this may take between 2 and 12 weeks. We will contact you once your order is placed to give you a more accurate lead time.
What is a prescriptive item?
This is an item that is made unique to each users needs. Although all our products - including prescriptive ones - can be purchased on the website, we highly recommend that those marked as prescriptive items (in our Product Builder) have an assessment carried out by one of our product specialists. We cannot accept any returns for items ordered in the wrong size or that are incompatible with the end user.
Can I return an item?
Unfortunately not. A lot of our products are made to measure meaning they are unique to each person and therefore can't be returned. If you have a product you believe can be returned we may accept it if it is unopened and unused - call 01795 477280 to talk to us.
Can I change an order I've already placed?
You can, but it may result in extra charges and delays. Once we have started manufacturing a product it becomes hard to change that process, especially if some components need to be replaced. We ask that everyone checks their order thoroughly before purchase.
Am I VAT Exempt?
If you are registered disabled - or are the carer, parent or guardian of someone who is registered disabled you will be exempt from paying VAT. If you are a registered charity with a UK charity registration number you will also not have to pay VAT. There is a simple form to fill out at checkout to apply this discount.
How do I apply for a trade account?
You can apply for a trade account by filling out this form on the website. You can also look at our interactive map on our contact us page and get in contact with your local Product Specialist to see if you would be eligible for a trade account.
The EasyStand Evolv is the most supportive and comfortable sit to stand stander available. With a massive range of options and configurations, each unit can be built specifically for an individual or facility. These options, that would normally be custom modifications, allow a stander to be configured for specific needs.
Positioning:
The optimal standing position has been perfected in the Evolv standing frame. By strategically placing the pivot points of the stander in line with the body's natural pivot points, options like the hip supports, lateral supports, and the head support remain in place from sitting to standing, minimizing shear. When positioned correctly, the contoured seat provides a maximum over-centre stretch for various body types. The Evolv also accommodates for hip and knee contractures through proper positioning of the footplates and optional independent knee pads.
Accessibility and Independence:
The Evolv's open base makes independent transfers easier. A larger Transfer Seat or Rotating Seat can also be added to make transfers more manageable. To make standing pivot or lift assist transfers easier, an optional Swing-Away Front or Removable Back can be added. The user can independently achieve the standing position with the manual hydraulic actuator or optional push-button Pow'r Up Lift.
Safety and Convenience:
The Evolv standing frame provides a safe and supportive transition to standing. It allows the user to stand in three easy steps - adjust, transfer and pump up. Both caregivers and users are more comfortable with the Evolv because of the safe and easy lateral transfer and supportive transition to standing.
* Height ranges are approximate with sit to stand - seat depth and seat to footplate measurements are more accurate measurements to determine the correct size standing frame.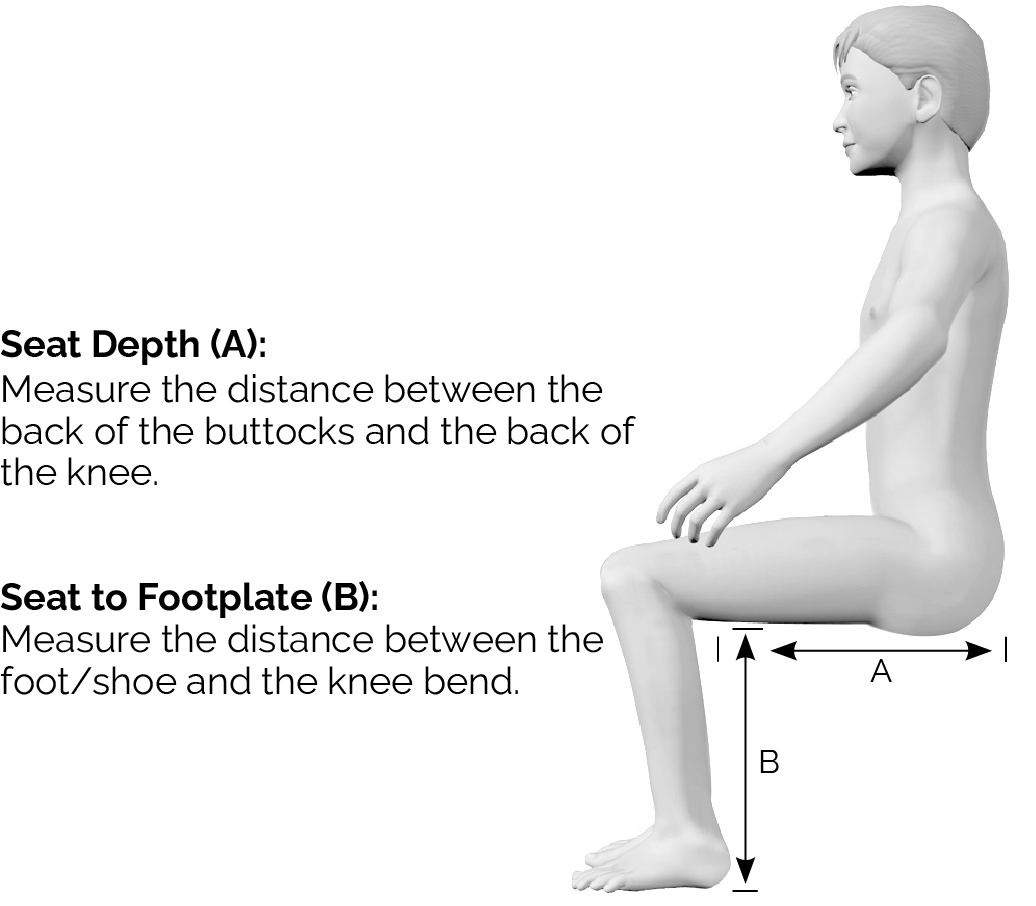 | | | | | | | | | |
| --- | --- | --- | --- | --- | --- | --- | --- | --- |
| SIZE | WEIGHT LIMIT | HEIGHT RANGE * | SEAT TO FOOTPLATE RANGE | SEAT DEPTH RANGE | SEAT HEIGHT FROM FLOOR | KNEE PAD DEPTH RANGE | WEIGHT OF BASIC UNIT | FRAME FOOTPRINT |
| MEDIUM | 90 kg | 122 - 168 cm | 28 - 46 cm | 36 - 48 cm | 55 cm | 9 - 15 cm | 46 kg | 67 x 85 cm |
| LARGE | 127 kg | 152 - 188 cm | 36 - 53 cm | 46 - 58 cm | 55 cm | 9 - 15 cm | 47 kg | 67 x 85 cm |
| XT | 159 kg | 183 - 208 cm | 43 - 58 cm | 51 - 64 cm | 60 cm | 12 - 18 cm | 51 kg | 70 x 95 cm |
Contact us to learn more about EasyStand Evolv