The new Grillo chair is a to-go lightweight chair for either at-home or school seating activities! Combines effectiveness, simplicity, and practicality in one single design available in two sizes.
Grillo classroom chair features:
Two sizes available
Breathable fabric is easy to wash and sanitize
Highly resistant tested to iso 12947, fireproof fabric
Available in two colours: pink and blue
Reclined seat.
Adjustable in height
Adjustable in depth and width
Multi-adjustable pelvic side supports
Adjustable armrest with a soft touch for even more comfort
Ideal solution at school and home
Backrest adjustable in two levels
Customer Questions
What are your delivery lead times?
It depends on the product you order. A simple order such as RMS accessories are held in stock and can be dispatched quite quickly, usually within 5 working days - if it is a bespoke item such as a seating system, or items ordered from external suppliers, this may take between 2 and 12 weeks. We will contact you once your order is placed to give you a more accurate lead time.
What is a prescriptive item?
This is an item that is made unique to each users needs. Although all our products - including prescriptive ones - can be purchased on the website, we highly recommend that those marked as prescriptive items (in our Product Builder) have an assessment carried out by one of our product specialists. We cannot accept any returns for items ordered in the wrong size or that are incompatible with the end user.
Can I return an item?
Unfortunately not. A lot of our products are made to measure meaning they are unique to each person and therefore can't be returned. If you have a product you believe can be returned we may accept it if it is unopened and unused - call 01795 477280 to talk to us.
Can I change an order I've already placed?
You can, but it may result in extra charges and delays. Once we have started manufacturing a product it becomes hard to change that process, especially if some components need to be replaced. We ask that everyone checks their order thoroughly before purchase.
Am I VAT Exempt?
If you are registered disabled - or are the carer, parent or guardian of someone who is registered disabled you will be exempt from paying VAT. If you are a registered charity with a UK charity registration number you will also not have to pay VAT. There is a simple form to fill out at checkout to apply this discount.
How do I apply for a trade account?
You can apply for a trade account by filling out this form on the website. You can also look at our interactive map on our contact us page and get in contact with your local Product Specialist to see if you would be eligible for a trade account.
---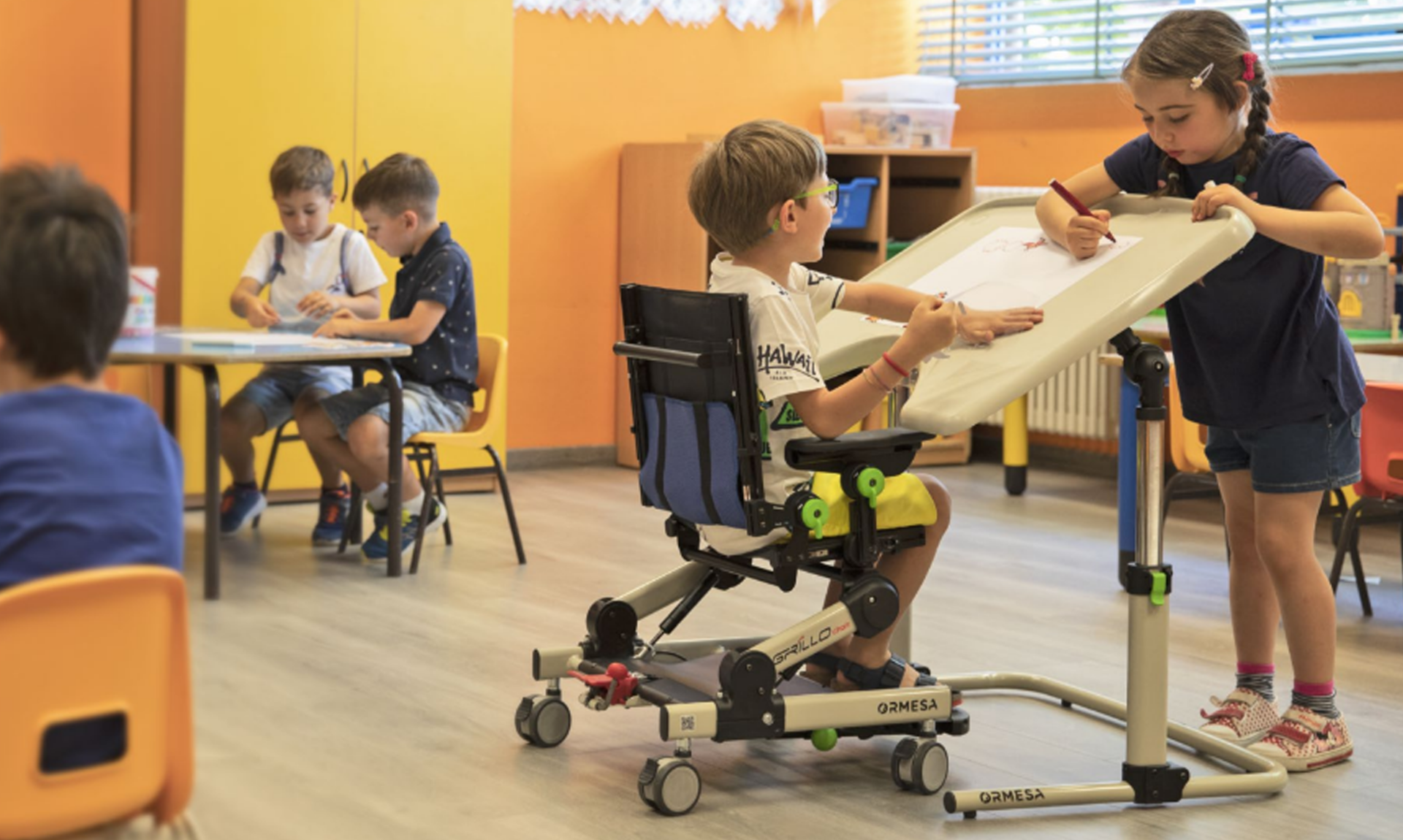 A very lightweight and adaptive chair for any occasion –classroom or at home- offers the user an optimal posture to practice any seating activity with a very comfortable position.
GRILLO CLASSROOM CHAIR SIZES AND WEIGHT

| | | | | | | | | | | | | | | |
| --- | --- | --- | --- | --- | --- | --- | --- | --- | --- | --- | --- | --- | --- | --- |
| | A* | B | C | D | E | F | F1 | G | G1 | L | L1 | H | TOT WEIGHT | MAX. LOAD |
SMALL

30cm

11,8in

20-30cm

7,8-11,8in

30-45cm

11,8-17,7in

15-18cm

5,9-7in

36cm

14,1in

48cm

18,8in

50,5cm

19,8in

50cm

19,6in

52-64cm

20,4-25,1in

20-31cm

7,8-12,2in

28,39cm

11,15,3in

90-120cm

35,4-47,2in

10,7kg

23,5lb

35kg

77,1lb
MEDIUM

35cm

13,7in

28-43cm

11-16,9in

35-55cm

13,7-21,6in

16-20cm

6,2-7,8in

41cm

16,1in

52cm

20,4in

54,5cm

21,4in

56,5cm

22,2in

62-73cm

24,4-28,7in

25-40cm

9,8-15,7in

33-48cm

12,9-18,8in

110-145cm

43,3-57in

13kg

28,6lb

45kg

99,2lb
Contact us to learn more about Grillo class chair