The Ormesa Juditta wheelchair can be easily used both indoors and outdoors due to the compact base and small turning circle.
The Juditta is a wheelchair seating system designed to match individuals with varying levels of disability; it can be customised to match even the most complex cases; while assuming a stable and comfortable seating position even when the user is seated is long periods or permanently.
Features:
Viscoelastic cords adapt to each user's anatomy.
Weight is distributed evenly to reduce the pressure.
Gas sprung tilt-in-space and reclining backrest.
Aligns trunk without putting pressure on the spine.
Can be customised to suit the most complex cases.
Breathable and machine washable seat covers.
Customer Questions
What are your delivery lead times?
It depends on the product you order. A simple order such as RMS accessories are held in stock and can be dispatched quite quickly, usually within 5 working days - if it is a bespoke item such as a seating system, or items ordered from external suppliers, this may take between 2 and 12 weeks. We will contact you once your order is placed to give you a more accurate lead time.
What is a prescriptive item?
This is an item that is made unique to each users needs. Although all our products - including prescriptive ones - can be purchased on the website, we highly recommend that those marked as prescriptive items (in our Product Builder) have an assessment carried out by one of our product specialists. We cannot accept any returns for items ordered in the wrong size or that are incompatible with the end user.
Can I return an item?
Unfortunately not. A lot of our products are made to measure meaning they are unique to each person and therefore can't be returned. If you have a product you believe can be returned we may accept it if it is unopened and unused - call 01795 477280 to talk to us.
Can I change an order I've already placed?
You can, but it may result in extra charges and delays. Once we have started manufacturing a product it becomes hard to change that process, especially if some components need to be replaced. We ask that everyone checks their order thoroughly before purchase.
Am I VAT Exempt?
If you are registered disabled - or are the carer, parent or guardian of someone who is registered disabled you will be exempt from paying VAT. If you are a registered charity with a UK charity registration number you will also not have to pay VAT. There is a simple form to fill out at checkout to apply this discount.
How do I apply for a trade account?
You can apply for a trade account by filling out this form on the website. You can also look at our interactive map on our contact us page and get in contact with your local Product Specialist to see if you would be eligible for a trade account.
An Evolution in Comfort:
Crash tested to ISO7176-19, the Juditta is a tilting and reclining comfort wheelchair from Ormesa for adults and the elderly with reduced mobility. Juditta's backrest supports correct posture, offering stability and preventing contractures and the onset of deformities. The seat's viscoelastic cords adapt to each user's anatomy, wrapping their body in a supremely effective way, helping to prevent rubbing and pressure sores.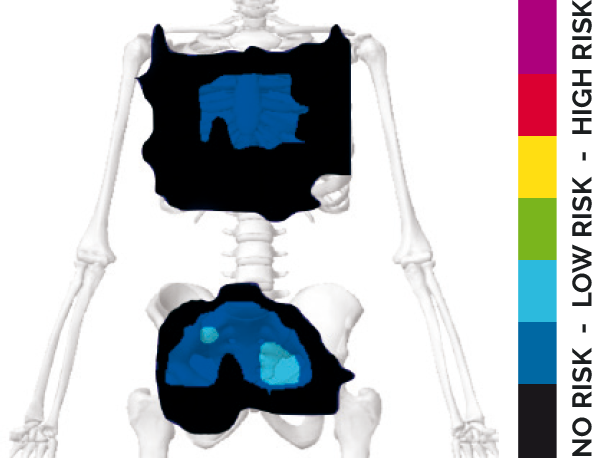 Distributed Pressure Relief:
The user's weight is evenly distributed across the seat area and backrest, relieving pressure on the lower back and hips. The special shape and material of the seat prevents the build-up of pressure along the length of the spine. The reclining backrest and tilting seat area adjusts to provide the best support in any given situation, allowing pressure to be reduced at various points and thus minimizing the risk of sores.
JUDITTA B12: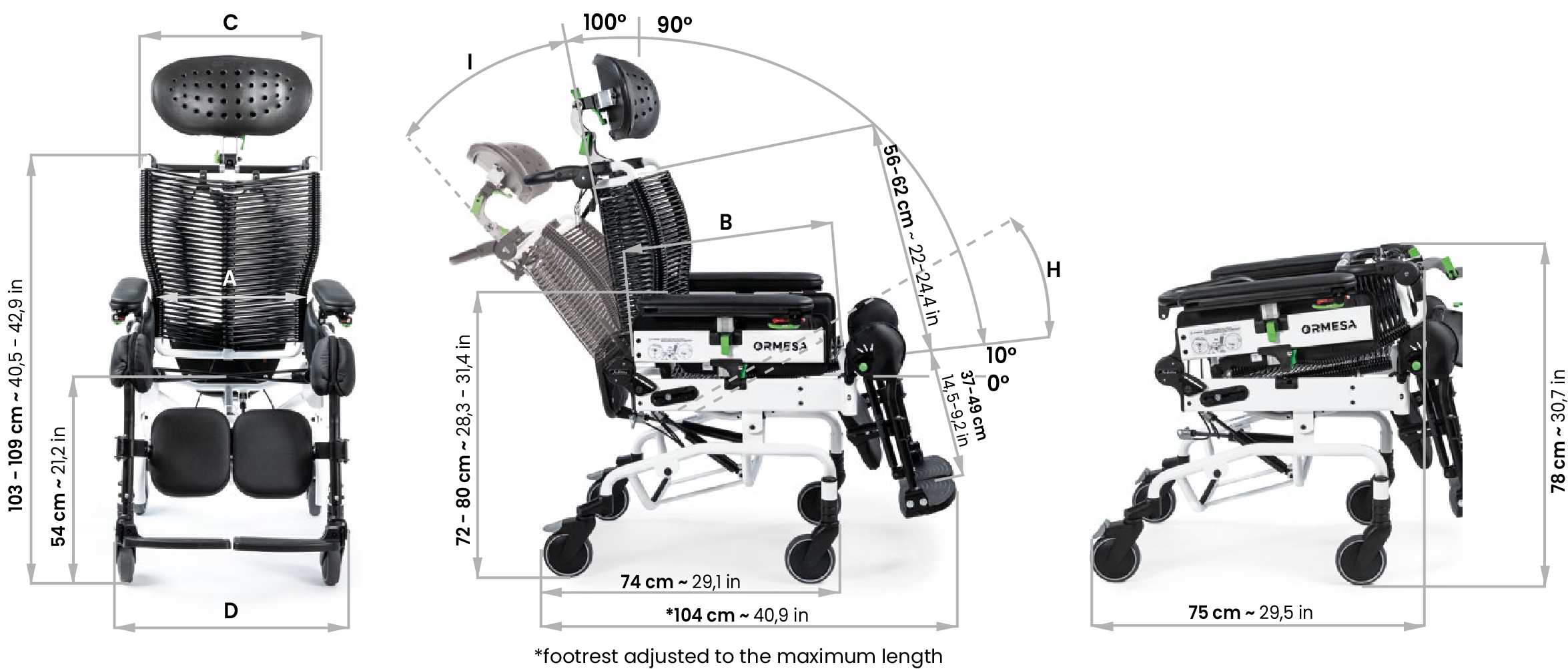 | | | | | | | | | |
| --- | --- | --- | --- | --- | --- | --- | --- | --- |
| SIZE | A | B | C | D | H | I | MAX CAPACITY | USER HEIGHT |
| 36 | 36 cm | 40 - 49 cm | 47 cm | 60 cm | 10 - 35° | 10 - 38° | 120 kg | 140 - 190 cm |
| 40 | 40 cm | 40 - 49 cm | 47 cm | 60 cm | 10 - 35° | 10 - 38° | 120 kg | 140 - 190 cm |
| 45 | 45 cm | 40 - 49 cm | 52 cm | 65 cm | 10 - 35° | 10 - 38° | 130 kg | 140 - 190 cm |
| 50 | 50 cm | 40 - 49 cm | 57 cm | 70 cm | 10 - 35° | 10 - 38° | 140 kg | 140 - 190 cm |
JUDITTA B30: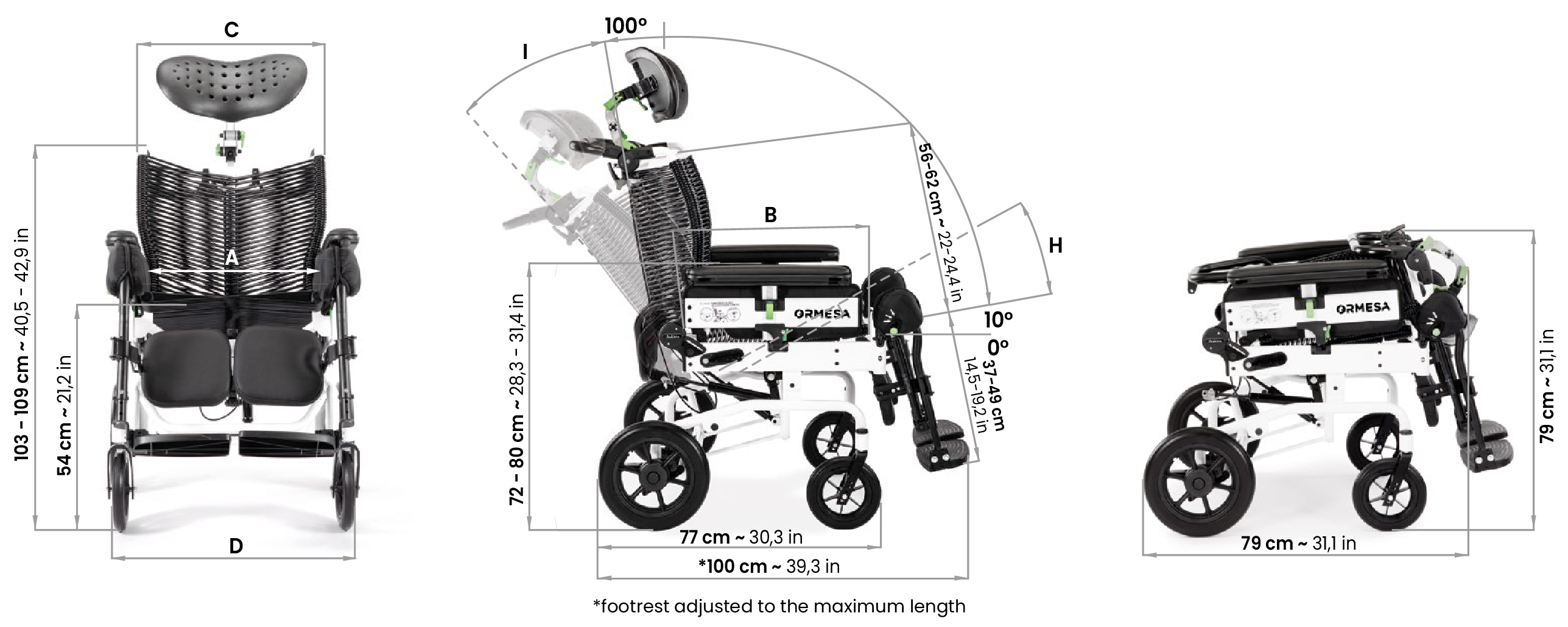 | | | | | | | | | |
| --- | --- | --- | --- | --- | --- | --- | --- | --- |
| SIZE | A | B | C | D | H | I | MAX CAPACITY | USER HEIGHT |
| 36 | 36 cm | 40 - 49 cm | 47 cm | 62 cm | 10 - 35° | 10 - 38° | 120 kg | 140 - 190 cm |
| 40 | 40 cm | 40 - 49 cm | 47 cm | 62 cm | 10 - 35° | 10 - 38° | 120 kg | 140 - 190 cm |
| 45 | 45 cm | 40 - 49cm | 52 cm | 67 cm | 10 - 35° | 10 - 38° | 130 kg | 140 - 190 cm |
| 50 | 50 cm | 40 - 49 cm | 57 cm | 72 cm | 10 - 35° | 10 - 38° | 140 kg | 140 - 190 cm |
JUDITTA B60:

| | | | | | | | | |
| --- | --- | --- | --- | --- | --- | --- | --- | --- |
| SIZE | A | B | C | D | H | I | MAX CAPACITY | USER HEIGHT |
| 36 | 36 cm | 40 - 49 cm | 47 cm | 69 cm | 10 - 35° | 10 - 38° | 120 kg | 140 - 190 cm |
| 40 | 40 cm | 40 - 49 cm | 47 cm | 69 cm | 10 - 35° | 10 - 38° | 120 kg | 140 - 190 cm |
| 45 | 45 cm | 40 - 49 cm | 52 cm | 74 cm | 10 - 35° | 10 - 38° | 130 kg | 140 - 190 cm |
| 50 | 50 cm | 40 - 49 cm | 57 cm | 79 cm | 10 - 35° | 10 - 38° | 140 kg | 140 - 190 cm |
Contact us to learn more about Juditta