The Kudu is a rigid frame paediatric wheelchair designed perfectly to address the clinical needs of children with different disabilities.
Tilt-In Space Wheelchair with RMS Seating:
The Kudu is a rigid frame, tilt-in space, reclining paediatric wheelchair that has been designed to offer exceptional adjustability while also addressing any clinical needs of the child. Adjustable backrest heights and seat depth provides excellent growth within the system, coupled with a range of backrest recline that can be adjusted easily and simply without the need for tools.
With the Kudu wheelchair base manufactured by R82, RMS have partnered up to produce a range of exclusive contoured seat cushions to offer medium to high levels of postural support and make the Kudu a more accessible option for the paediatric market. The RMS seating cushions are available in a range of upholstery colours and a variety of contour shapes - we also supply a selection of British-made accessories, headrests, belts and harnesses that simply bolt onto the existing Kudu frame to further enhance postural support.
Gravity Stability:
With a backrest recline of -5° to 30° and self-centre tilt in space of -3° to 45° - the Kudu uses an innovative hydraulic lever system that means the centre of gravity when tilting stays between the rear wheels, ensuring the stability of the wheelchair whilst allowing for easy and weightless adjustment of the tilt-in space with very little effort from the care giver.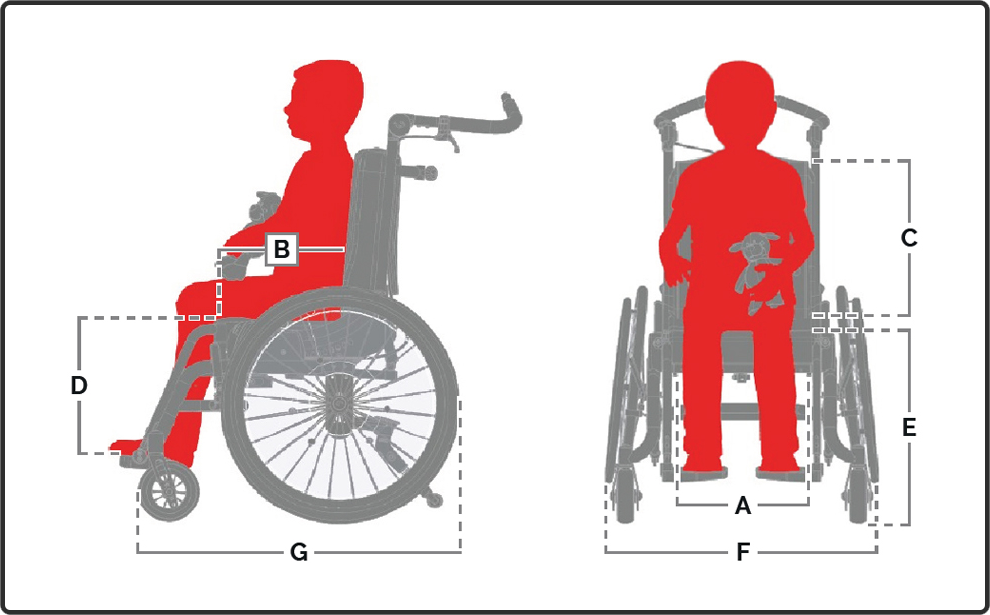 | | | | | |
| --- | --- | --- | --- | --- |
| | SIZE 1 | SIZE 2 | SIZE 3 | SIZE 4 |
| Effective Seat Width (A) | 260 mm | 300 mm | 340 mm | 380 mm |
| Effective Seat Depth (B) | 220 - 320 mm | 270 - 370 mm | 310 - 410 mm | 350 - 450 mm |
| Backrest Height (C) | 370 - 460 mm | 400 - 520 mm | 430 - 580 mm | 430 - 630 mm |
| Footrest to Seat - Central (D) | 160 - 310 mm | 160 - 380 mm | 260 - 450 mm | 260 - 450 mm |
| Footrest to Seat - Parted (D) | N/A | 250 - 350 mm | 300 - 480 mm | 300 - 480 mm |
| Seat Height at Front Edge (E) | 480 mm | 480 mm | 480 mm | 480 mm |
| Overall Width (F) | 605 mm | 645 mm | 685 mm | 725 mm |
| Length (G) | 690 mm | 690 mm | 740 mm | 740 mm |
Contact us to learn more about Kudu