The Kudu is a rigid frame paediatric wheelchair designed perfectly to address the clinical needs of children with different disabilities.
The Kudu is manufactured by R82, so RMS have partnered up to produce a range of exclusive contoured seat cushions to offer medium to high levels of postural support making the Kudu a more accessible option for the paediatric market.
Features:
Premium paediatric wheelchair with bespoke seating.
Frame growth with backrest height and depth adjustment.
Compatible with a wide range of R82 and RMS accessories.
Offers 50° tilt-in-space and 35° of backrest adjustment.
Removable wheels and crash tested for easy transportation.
Available in three frame and four upholstery colours.
We offer FREE assessments for this product, which we recommend so you get exactly what you need. Fill out the contact form below to find out more!
Customer Questions
What are your delivery lead times?
It depends on the product you order. A simple order such as RMS accessories are held in stock and can be dispatched quite quickly, usually within 5 working days - if it is a bespoke item such as a seating system, or items ordered from external suppliers, this may take between 2 and 12 weeks. We will contact you once your order is placed to give you a more accurate lead time.
What is a prescriptive item?
This is an item that is made unique to each users needs. Although all our products - including prescriptive ones - can be purchased on the website, we highly recommend that those marked as prescriptive items (in our Product Builder) have an assessment carried out by one of our product specialists. We cannot accept any returns for items ordered in the wrong size or that are incompatible with the end user.
Can I return an item?
Unfortunately not. A lot of our products are made to measure meaning they are unique to each person and therefore can't be returned. If you have a product you believe can be returned we may accept it if it is unopened and unused - call 01795 477280 to talk to us.
Can I change an order I've already placed?
You can, but it may result in extra charges and delays. Once we have started manufacturing a product it becomes hard to change that process, especially if some components need to be replaced. We ask that everyone checks their order thoroughly before purchase.
Am I VAT Exempt?
If you are registered disabled - or are the carer, parent or guardian of someone who is registered disabled you will be exempt from paying VAT. If you are a registered charity with a UK charity registration number you will also not have to pay VAT. There is a simple form to fill out at checkout to apply this discount.
How do I apply for a trade account?
You can apply for a trade account by filling out this form on the website. You can also look at our interactive map on our contact us page and get in contact with your local Product Specialist to see if you would be eligible for a trade account.
Tilt-In Space Wheelchair with RMS Seating:
The Kudu is a rigid frame, tilt-in space, reclining paediatric wheelchair that has been designed to offer exceptional adjustability while also addressing any clinical needs of the child. Adjustable backrest heights and seat depth provides excellent growth within the system, coupled with a range of backrest recline that can be adjusted easily and simply without the need for tools.
With the Kudu wheelchair base manufactured by R82, RMS have partnered up to produce a range of exclusive contoured seat cushions to offer medium to high levels of postural support and make the Kudu a more accessible option for the paediatric market. The RMS seating cushions are available in a range of upholstery colours and a variety of contour shapes - we also supply a selection of British-made accessories, headrests, belts and harnesses that simply bolt onto the existing Kudu frame to further enhance postural support.
Gravity Stability:
With a backrest recline of -5° to 30° and self-centre tilt in space of -3° to 45° - the Kudu uses an innovative hydraulic lever system that means the centre of gravity when tilting stays between the rear wheels, ensuring the stability of the wheelchair whilst allowing for easy and weightless adjustment of the tilt-in space with very little effort from the care giver.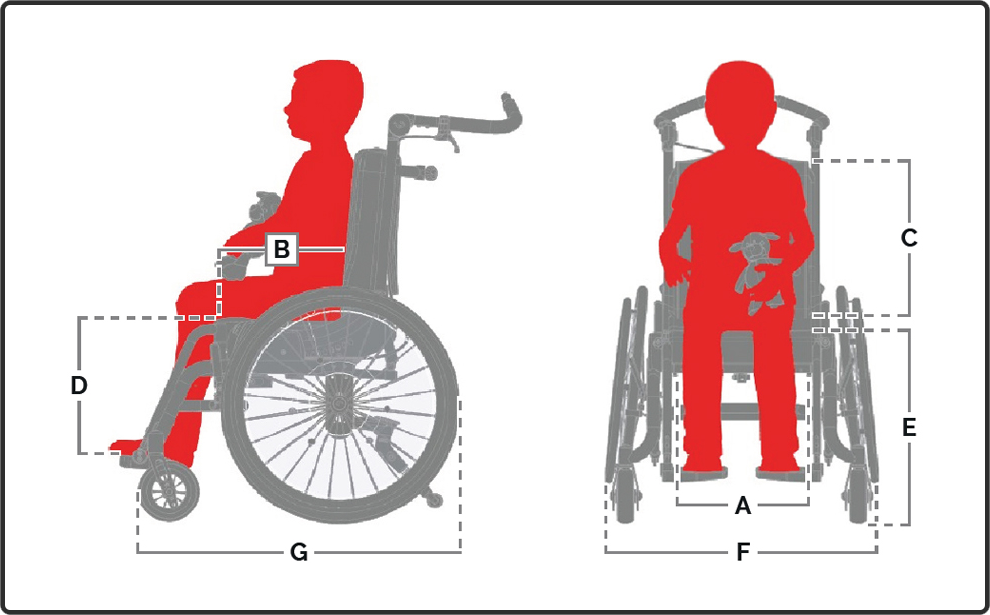 | | | | | |
| --- | --- | --- | --- | --- |
| | SIZE 1 | SIZE 2 | SIZE 3 | SIZE 4 |
| Effective Seat Width (A) | 260 mm | 300 mm | 340 mm | 380 mm |
| Effective Seat Depth (B) | 220 - 320 mm | 270 - 370 mm | 310 - 410 mm | 350 - 450 mm |
| Backrest Height (C) | 370 - 460 mm | 400 - 520 mm | 430 - 580 mm | 430 - 630 mm |
| Footrest to Seat - Central (D) | 160 - 310 mm | 160 - 380 mm | 260 - 450 mm | 260 - 450 mm |
| Footrest to Seat - Parted (D) | N/A | 250 - 350 mm | 300 - 480 mm | 300 - 480 mm |
| Seat Height at Front Edge (E) | 480 mm | 480 mm | 480 mm | 480 mm |
| Overall Width (F) | 605 mm | 645 mm | 685 mm | 725 mm |
| Length (G) | 690 mm | 690 mm | 740 mm | 740 mm |
Contact us to learn more about Kudu