Virtus High Low Powered base
New for 2023 - This powered heavy-duty base has been designed specifically to meet the rigorous requirements of classroom or home use.
As part of our VIRTUS RANGE, the high-low base has a direct interface to our highly postural Virtus Seating, with everything delivered as one easy-to-use complete package. Simply plug in and you'll be ready to go!
---
Features
Up to 50 powered lifts per charge
30º of forward and back power tilt
Heavy duty 120kg weight limit
Direct interface to Virtus Seating
Plus third-party seating interface
Designed for ease of user handling
Customer Questions
What are your delivery lead times?
It depends on the product you order. A simple order such as RMS accessories are held in stock and can be dispatched quite quickly, usually within 5 working days - if it is a bespoke item such as a seating system, or items ordered from external suppliers, this may take between 2 and 12 weeks. We will contact you once your order is placed to give you a more accurate lead time.
What is a prescriptive item?
This is an item that is made unique to each users needs. Although all our products - including prescriptive ones - can be purchased on the website, we highly recommend that those marked as prescriptive items (in our Product Builder) have an assessment carried out by one of our product specialists. We cannot accept any returns for items ordered in the wrong size or that are incompatible with the end user.
Can I return an item?
Unfortunately not. A lot of our products are made to measure meaning they are unique to each person and therefore can't be returned. If you have a product you believe can be returned we may accept it if it is unopened and unused - call 01795 477280 to talk to us.
Can I change an order I've already placed?
You can, but it may result in extra charges and delays. Once we have started manufacturing a product it becomes hard to change that process, especially if some components need to be replaced. We ask that everyone checks their order thoroughly before purchase.
Am I VAT Exempt?
If you are registered disabled - or are the carer, parent or guardian of someone who is registered disabled you will be exempt from paying VAT. If you are a registered charity with a UK charity registration number you will also not have to pay VAT. There is a simple form to fill out at checkout to apply this discount.
How do I apply for a trade account?
You can apply for a trade account by filling out this form on the website. You can also look at our interactive map on our contact us page and get in contact with your local Product Specialist to see if you would be eligible for a trade account.
---
Powered adjustments in few seconds!
HEIGHT ADJUSTMENT: The powered actuator used in the Virtus High-Low Base operates at a height range of 25cm from lowest to highest. It can easily lift a maximum combined weight of 120kg, with a long battery life of up to 50 lift and lower cycles based on a maximum weight user. Watch the video of the base to see it in action: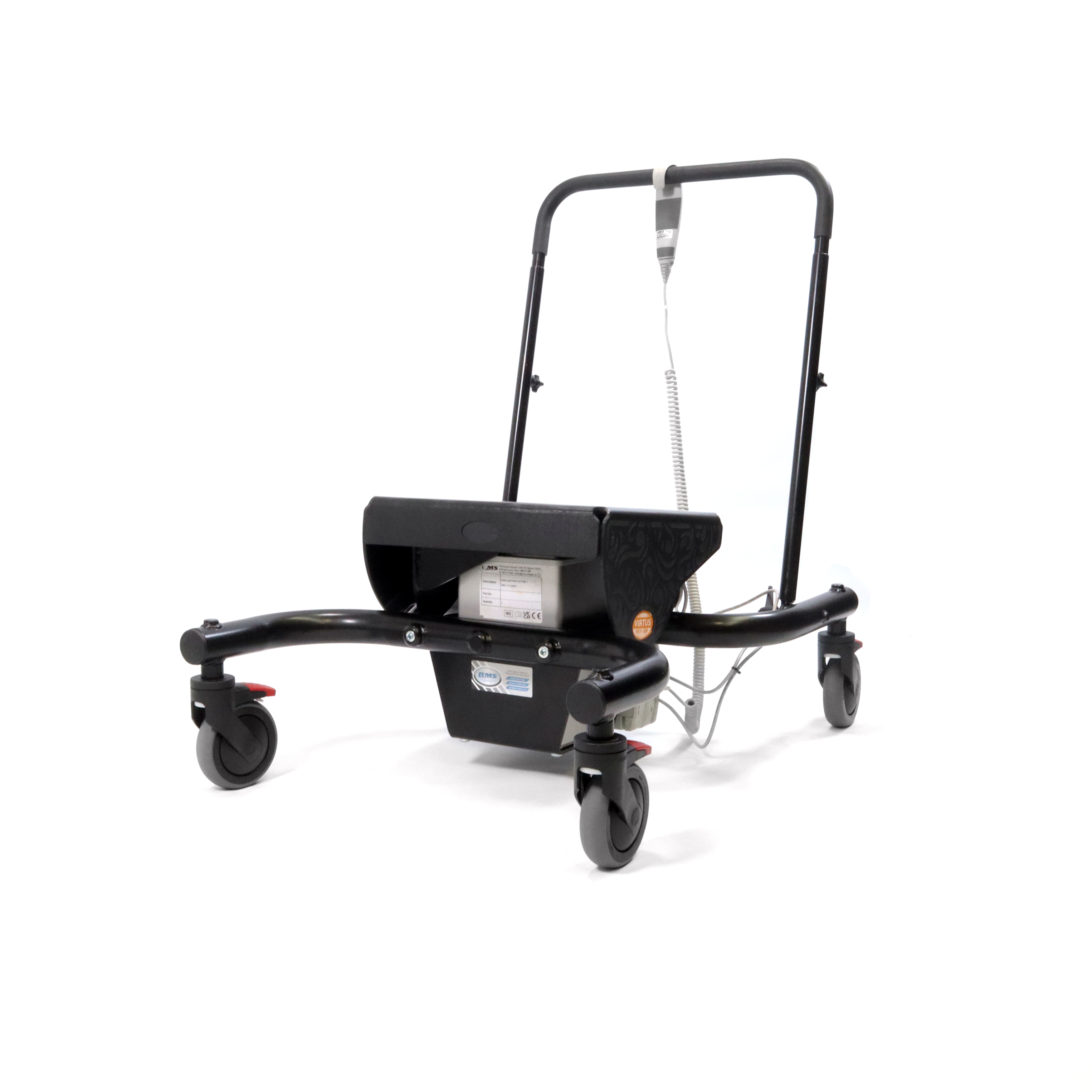 Frame in its lowest configuration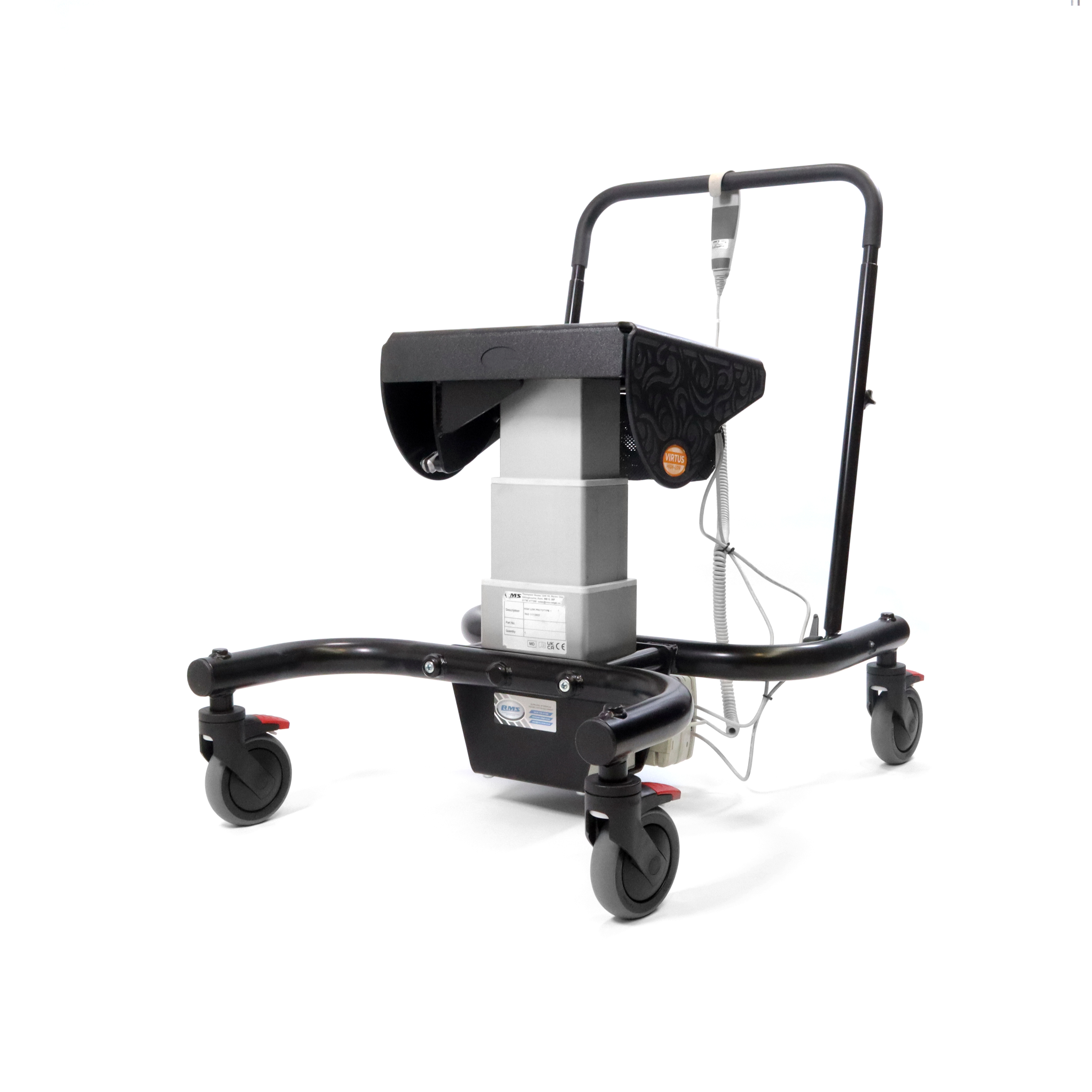 Frame in its highest configuration
FORWARD & REAR TILT:The base has a second powered actuator that can provide forward tilt of 5° and rearward tilt of 25°. This is perfect for hoisted transfers and keeping users safe and secure in the system, with a long controller cable so carers can keep eye contact with users during all seating adjustments
Measurements and specifications
| | | |
| --- | --- | --- |
| SEAT TILT | ADJUSTABLE PUSH HANDLE | FRAME BASE SIZE |
| 5º of Forward Tilt | Min Height = 70cm | Width - 65cm |
| 25º of Backward Tilt | Max Height = 90cm | Depth = 83cm |
| | | |
| --- | --- | --- |
| HEIGHT ADJUST | WEIGHT LIMIT | CASTOR WHEELS |
| 37.5cm at lowest | 90kg maximum user weight | 125mm Diameter |
| 62.5cm at highest | 120kg max weight with seat unit | Lock on all corners |
BATTERY LIFE
Up to 50 lift and lower cycles with a maximum weight user
Can be used when plugged in with a cable lenght of 1.25m
Comes with storage basket for when charge cable is not in use
See the RMS seating range
Related products
Contact us to learn more about Virtus High Low Powered base