The Doccia is a good solution to showering, due to its frame in varnished aluminium and its upholstery in temperature-resistant plastic cord.
The Doccia Shower Chair is a result of over 25 years experience of patients needing to be contained in a correct, seated position. The purpose of this device is to allow a long permanence of adult people as an alternative to beds.
Features:
Headrest has an antibacterial coating.
Seat and back are covered with a special visco-elastic, fireproof, hygienic and highly breathable material.
Ergonomic - seat can be tilted 15°.
We offer FREE assessments for this product, which we recommend so you get exactly what you need. Fill out the contact form below to find out more!
Customer Questions
What are your delivery lead times?
It depends on the product you order. A simple order such as RMS accessories are held in stock and can be dispatched quite quickly, usually within 5 working days - if it is a bespoke item such as a seating system, or items ordered from external suppliers, this may take between 2 and 12 weeks. We will contact you once your order is placed to give you a more accurate lead time.
What is a prescriptive item?
This is an item that is made unique to each users needs. Although all our products - including prescriptive ones - can be purchased on the website, we highly recommend that those marked as prescriptive items (in our Product Builder) have an assessment carried out by one of our product specialists. We cannot accept any returns for items ordered in the wrong size or that are incompatible with the end user.
Can I return an item?
Unfortunately not. A lot of our products are made to measure meaning they are unique to each person and therefore can't be returned. If you have a product you believe can be returned we may accept it if it is unopened and unused - call 01795 477280 to talk to us.
Can I change an order I've already placed?
You can, but it may result in extra charges and delays. Once we have started manufacturing a product it becomes hard to change that process, especially if some components need to be replaced. We ask that everyone checks their order thoroughly before purchase.
Am I VAT Exempt?
If you are registered disabled - or are the carer, parent or guardian of someone who is registered disabled you will be exempt from paying VAT. If you are a registered charity with a UK charity registration number you will also not have to pay VAT. There is a simple form to fill out at checkout to apply this discount.
How do I apply for a trade account?
You can apply for a trade account by filling out this form on the website. You can also look at our interactive map on our contact us page and get in contact with your local Product Specialist to see if you would be eligible for a trade account.
Safety in Daily Hygiene:
The Doccia is a shower chair for adults and has been designed to ensure comfort and safety. The bathroom is the environment where most domestic accidents or falls occur; washing a person with motor problems can be uncomfortable and dangerous for both the user and the caregiver.
This shower chair meets the needs of safety and practically of both ensuring:
Containment.
Hygiene.
Stability.
Widespread Well-Being:
The covering of the shower chair is made of a visco-elastic material able to take the shape of the shoulders and glutes of the user ensuring a wide transpiration, as well as effective water reflux. The wrapping backrest has a "v" shape for a better containment of the trunk and it can be fixed in two position in order to have different depth adjustment of the seat. Its structure - together with the tilted seat - prevents the user from sliding forwards and favours the unloading of the trunk on several points, excluding the spine from rubbing and compression. The reclining backrest and leg rest allow the caregiver to place the user semi-reclined or seated, keeping the lateral containment of the trunk-pelvis constant.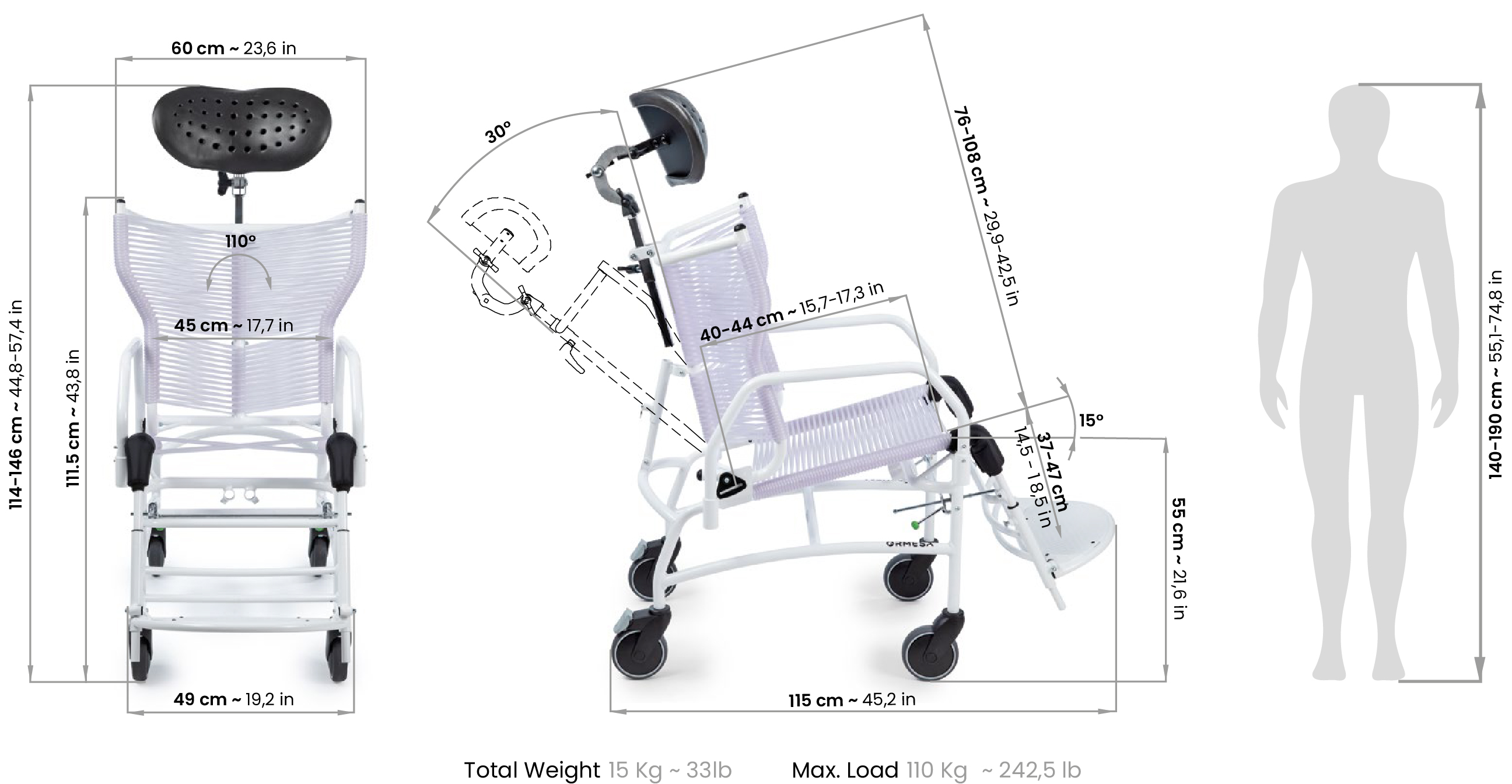 Contact us to learn more about Doccia Shower Chair