The Grillo Gait Trainer has been specifically designed to benefit self-movement in those suffering from motor related disabilities.
The Grillo Pacer Gait Trainer comes in four different sizes from small child to large adult, with easy height alteration to provide excellent base stability and control, along with the ability to grow with the client for exceptional product life.
Features:
Posterior and anterior function available in all frames.
Four sizes from small toddler to large adult.
Wide range of accessories.
Patented frame system
Compacts for easy travel.
Suitable for indoor and outdoor use.
Unparalleled growth between all sizes.
Paediatric Walker
We offer FREE assessments for this product, which we recommend so you get exactly what you need. Fill out the contact form below to find out more!
Customer Questions
What are your delivery lead times?
It depends on the product you order. A simple order such as RMS accessories are held in stock and can be dispatched quite quickly, usually within 5 working days - if it is a bespoke item such as a seating system, or items ordered from external suppliers, this may take between 2 and 12 weeks. We will contact you once your order is placed to give you a more accurate lead time.
What is a prescriptive item?
This is an item that is made unique to each users needs. Although all our products - including prescriptive ones - can be purchased on the website, we highly recommend that those marked as prescriptive items (in our Product Builder) have an assessment carried out by one of our product specialists. We cannot accept any returns for items ordered in the wrong size or that are incompatible with the end user.
Can I return an item?
Unfortunately not. A lot of our products are made to measure meaning they are unique to each person and therefore can't be returned. If you have a product you believe can be returned we may accept it if it is unopened and unused - call 01795 477280 to talk to us.
Can I change an order I've already placed?
You can, but it may result in extra charges and delays. Once we have started manufacturing a product it becomes hard to change that process, especially if some components need to be replaced. We ask that everyone checks their order thoroughly before purchase.
Am I VAT Exempt?
If you are registered disabled - or are the carer, parent or guardian of someone who is registered disabled you will be exempt from paying VAT. If you are a registered charity with a UK charity registration number you will also not have to pay VAT. There is a simple form to fill out at checkout to apply this discount.
How do I apply for a trade account?
You can apply for a trade account by filling out this form on the website. You can also look at our interactive map on our contact us page and get in contact with your local Product Specialist to see if you would be eligible for a trade account.
One Single Gait Trainer, Endless Opportunities:
The Grillo is a support walker for adults and children designed to facilitate movement of those with reduced mobility and to promote as much independence as possible. Available in both front and rear direction versions, its sets extremely high standard with regards to customization, ease of use and versatility - thanks to a wide range of adjustments and available supports.
Equipped with ergonomic and independent pelvic and thoracic supports, during each and every step, the Grillo guarantees:
Safety.
Stability.
Restraint and Support.
Dynamic Frames:
Thanks to a very light aluminium frame, the Grillo is perfect to be pushed around and manoeuvred, even for those who are significantly compromised in voluntary motor skills, as well as balance; furthermore, since it is foldable, it is the ideal solution for those who have little space at home or need to travel.
The frame can be adapted, both in static and dynamic phases, with the user in situ: the system of height adjustment with constant centre of gravity means that the Grillo can accompany the growth of the child for a long time.
Designed for Independence - No Matter the Age:
Being able to move independently in your own environment is a fundamental importance for the development of social and interpersonal skills; in fact, active participation in the community represents a substantial incentive so as not to consider limitations as insurmountable obstacles.
Available in four sizes, the Grillo allows adults and children to live independently, contributing to the development and strengthening of self and body consciousness.
FRONT DRIVE: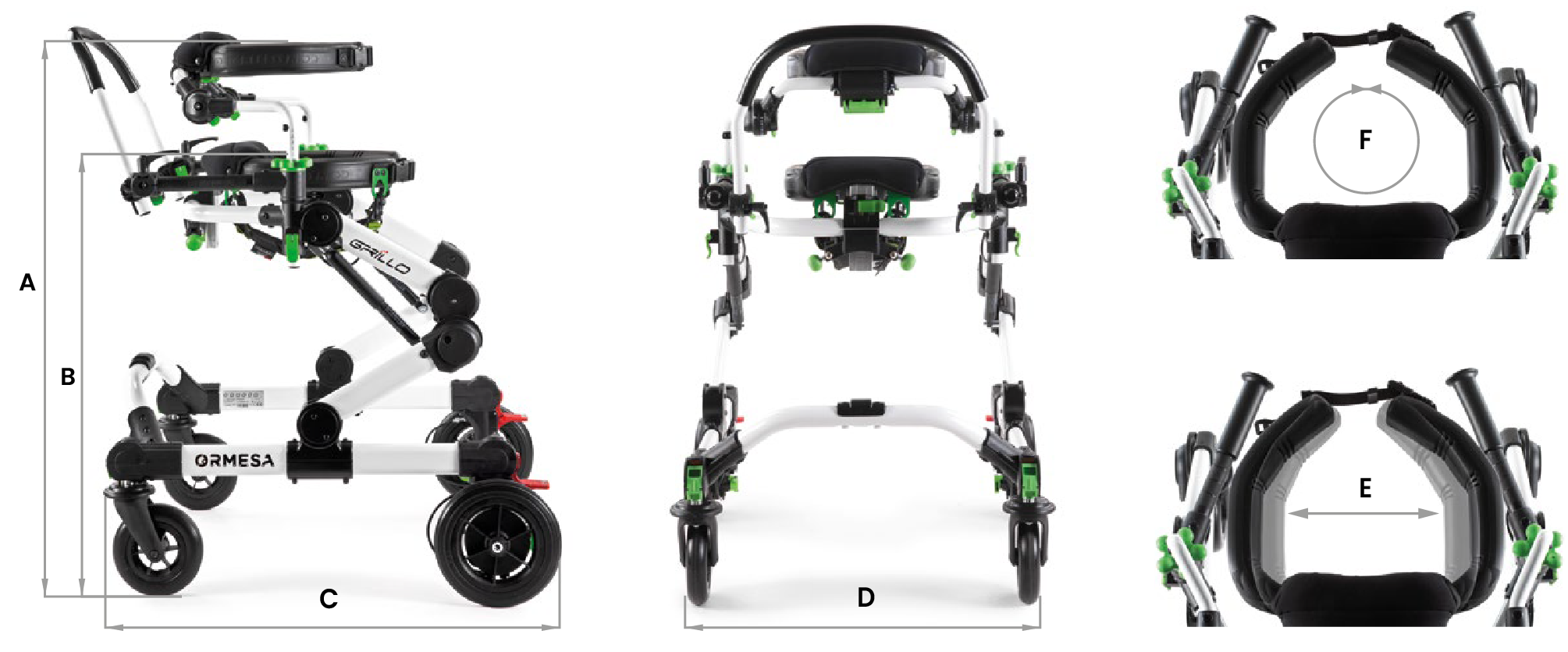 | | | | | | | | | |
| --- | --- | --- | --- | --- | --- | --- | --- | --- |
| SIZE | A | B | C | D | E | F | G | MAX LOAD |
| MINI PTM | 60 - 76 cm | 42 - 61 cm | 74.5 cm | 62 cm | 19 - 25 cm | 53 - 79 cm | 75 - 95 cm | 35 kg |
| MINI | 51 - 75 cm | 42 - 61 cm | 74.5 cm | 62 cm | 19 - 25 cm | 53 - 79 cm | 75 - 95 cm | 35 kg |
| SMALL | 66 - 100 cm | 49 - 84 cm | 75 cm | 69 cm | 19 - 25 cm | 60 - 86 cm | 90 - 135 cm | 45 kg |
| MEDIUM | 73 - 124 cm | 54 - 100 cm | 91 cm | 76 cm | 22 - 36 cm | 74 - 120 cm | 110 - 165 cm | 90 kg |
| LARGE | 84 - 147 cm | 63 - 120 cm | 111cm | 80 cm | 24 - 40 cm | 81 - 140 cm | 150 - 190 cm | 110 kg |
REAR DRIVE: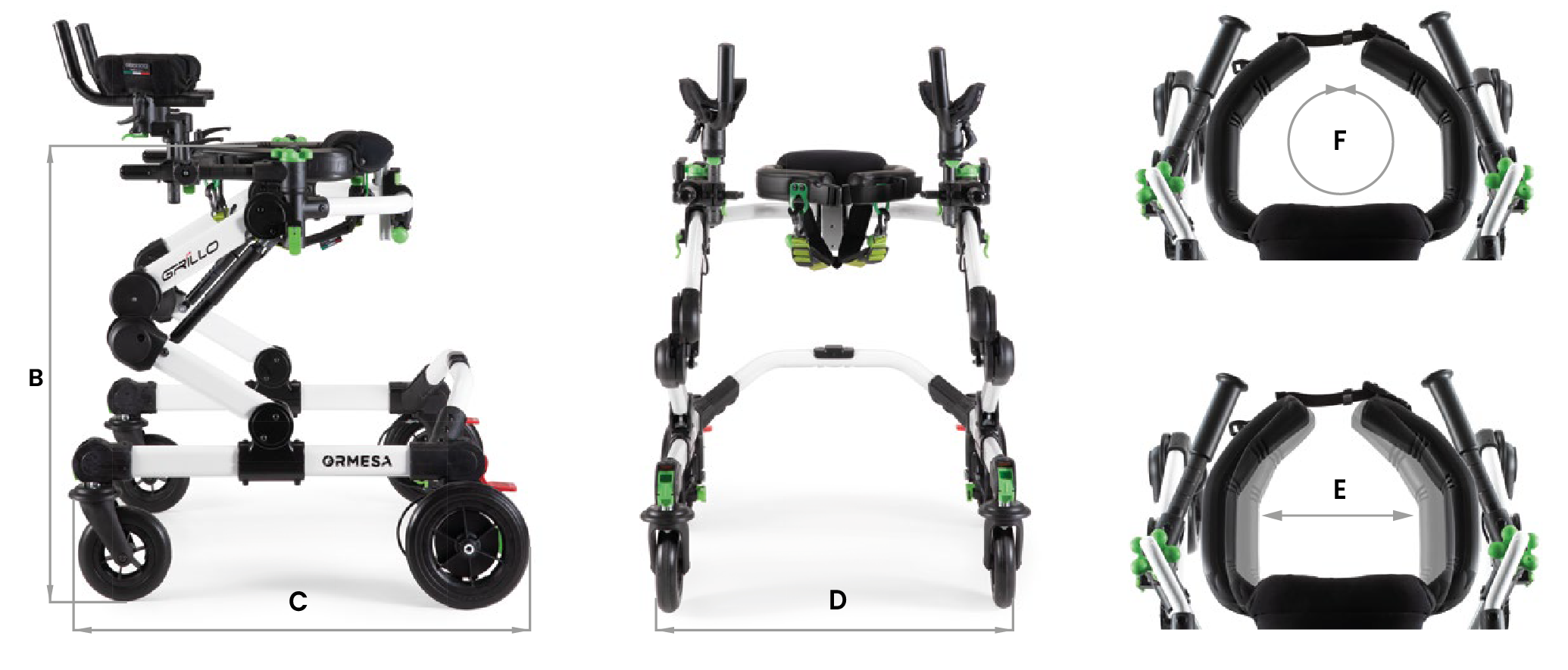 | | | | | | | | |
| --- | --- | --- | --- | --- | --- | --- | --- |
| SIZE | B | C | D | E | F | G | MAX LOAD |
| MINI | 42 - 61 cm | 74.5 cm | 62 cm | 19 - 25 cm | 53 - 79 cm | 75 - 95 cm | 35 kg |
| SMALL | 49 - 84 cm | 75 cm | 69 cm | 19 - 25 cm | 60 - 86 cm | 90 - 135 cm | 45 kg |
| MEDIUM | 54 - 100 cm | 91 cm | 76 cm | 22 - 36 cm | 74 - 120 cm | 110 - 165 cm | 90 kg |
| LARGE | 63 - 120 cm | 111 cm | 80 cm | 24 - 40 cm | 81 - 140 cm | 150 - 190 cm | 110 kg |
Contact us to learn more about Grillo